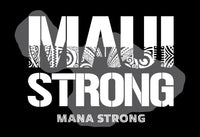 MAUI STRONG
Join us in rebuilding Maui! The Maui Strong Fund is your direct path to help wildfire-impacted families and places. ...
Support Aloha will be selling MAUI STRONG logo merchandise with 100% of the proceeds going to the Maui community in need.
サポートアロハでは、マウイストロング(MAUI STRONG)のロゴグッズを販売し、収益の100%を必要とされるマウイコミュニティーに寄付いたします。
Detail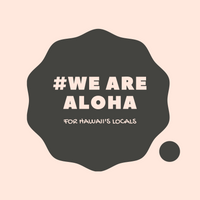 Support for Hawaii's Local Businesses
The "#SUPPORT ALOHA" project focuses on supporting our local communities which have been severely impacted by the COVID-19 pandemic. Due to tourism coming to a virtual standstill, many small businesses that heavily rely on tourism have been struggling economically.  Through "#SUPPORT ALOHA" we sell original goods and merchandise made with local vendors in hopes to support our local economy. 10% of our proceeds go to support the local vendor and local charities such as Hawaii Foodbank. Thank you for supporting this project and our local businesses.
チャリティ―支援型「サポート・アロハ」プロジェクトは、新型コロナウイルスの感染拡大の影響を受け、経済的なダメージを受けているハワイのコミュニティーを支援することを目的としたプロジェクトです。ハワイを訪れる観光客の数が激減したことに伴い、地元の中小企業や観光業を支えるローカルの労働者たちは経済的に大きなダメージを受けています。「サポート・アロハ」プロジェクトでは、商品の販売を通してローカルビジネスのお手伝いをするとともに、オリジナルグッズの売り上げの10%を食糧を必要としている人たちへの援助を行っている「HAWAII FOODBANK」に寄付します。皆様の温かいサポートをよろしくお願いいたします。